Open NC File Tool
Rainfed wheat (Triticum aestivum L.) yield prediction using economical, meteorological, and drought indicators through pooled panel data and statistical downscaling
---

What is Open NC File Tool?
Open NC File is a versatile and unrestricted tool designed to extract time series data from NetCDF files. It effortlessly opens and reads data from any type of NetCDF file, including those with rotated-pole-grids, such as CORDEX data. The tool allows users to input a list of station coordinates either manually or via a text file, Excel file, or CSV file.
One of the key features of Open NC File is its ability to merge NetCDF files in unlimited dimensions temporarily. Users can input the name of the unlimited dimension if the file didn't define any dimension as unlimited. Additionally, the tool provides an API that displays the stations and the domain of the NetCDF file on a map(Just for 1Dim Lat/lon), making it easier for users to visualize the spatial distribution of their stations.
Open NC File is designed to work seamlessly with NetCDF files that have three or two dimensions, and it automatically detects and uses the latitude and longitude dimensions present in the files. However, in cases where these dimensions are not automatically detected, users have the option to enter them manually in Text-Boxes.
When dealing with NetCDF files with a time dimension, Open NC File effortlessly handles them, and if a file lacks a time dimension, the tool efficiently merges the files using the time dimension. For NetCDF files with four dimensions, users can easily select a specific element of the fourth dimension.
In conclusion, Open NC File is a powerful and user-friendly tool that simplifies the extraction of time series data from NetCDF files, catering to a wide range of file configurations and allowing users to interact with their data effectively.
The Open NC File tool has undergone rigorous testing by AgriMetSoft's team, using various NetCDF files. We are delighted to announce that the tool has been successfully able to open all tested files without any issues and extract data. Rest assured, it is a reliable and effective solution for extracting time series from NetCDF files.
If you require any assistance or have any questions, please feel free to reach out to us at kolsoomi57@gmail.com. Additionally, you can purchase the "Open NC File" tool and gain access to our dedicated support team, who will be more than happy to assist you with any queries or concerns you may have. Invest in Open NC File today and experience seamless NetCDF file extraction with complete support.
Open NC File Software | Using Miroc6 and GFDL-ESM4 models of CMIP6
---
How can we run "Open NC File" tool?
Downloading and installing the "Open NC File" tool on Windows is a straightforward process. Once installed, you can immediately run and test its functionalities. However, to enable data extraction using the "Open NC File" tool, you will need to purchase a valid key. Upon completing your purchase at our store, the "Open NC File" key will be promptly provided to you. You will receive an email from FastSpring Co. containing the key, allowing you to unlock the full potential of the "Open NC File" tool. Should you encounter any issues during the installation or usage, don't hesitate to reach out to us for further assistance. We are always ready to help and ensure you have a seamless experience with the "Open NC File" tool.
The Open NC File tool offers three distinct output data styles. The first tab showcases the style of stations in the Open NC File tool.

In the second tab of the Open NC File tool, you will find two extraction styles for rectangular regions: Style1 and Style2. These styles facilitate the process of extracting data from specific rectangular areas in the NetCDF files. You can check them in the below pictures: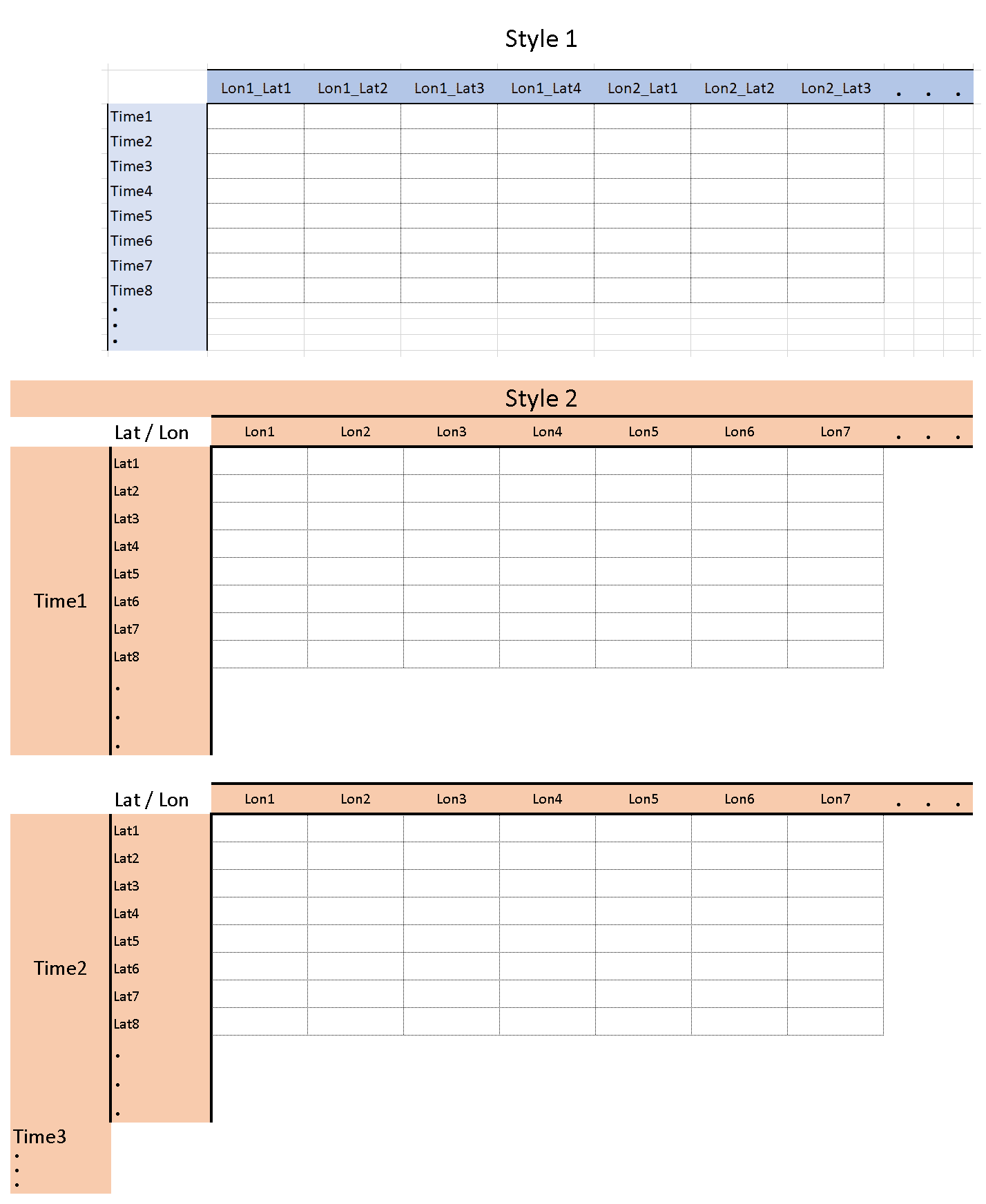 The license of this tool is applicable for one year of using and you can renew it by pay 20% of the price for the new year.
Subscribe to our Channel In YouTube:
How to Extract Time Series from GPCC NetCDF data
---